Industry's smallest 3-axis MEMS accelerometer from Bosch Sensortec set to become the new standard for wearable devices
•The BMA355 accelerometer is optimized to deliver high performance accelerometer functionality
highly space-constrained products
•Applications include fitness tracker, pedometer in bracelets, life-style devices and jewelry
With the BMA355, Bosch Sensortec offers the world's smallest 3-axis MEMS accelerometer, featuring a wafer-level chip scale package with a size of just 1.2 x 1.5 x 0.8 mm3. With a current consumption of only 130 μA in full operation, the BMA355 is ideally suited for wearable devices. In low-power mode operation, the current consumption can be even further reduced by more than a factor of ten, making this device ideal for always-on applications.
A powerful feature of the BMA355 is the enhanced intelligent interrupt engine. Multiple motion detection scenarios can be identified by the BMA355 and signaled to the host system via two configurable interrupt pins. The BMA355 interrupts indicate data-ready for processor synchronization, any-motion (slope) detection for wake-up, tap sensing for tap-sensitive user interface (UI) control, orientation change recognition for portrait or landscape switching, flat detection for position sensitive switching, low-g / high-g detection for shock and free-fall detection, or no-motion for power saving. Interrupt parameters can be configured by the designer and perfectly support the integration of the BMA355 the user's system environment.
The Bosch Sensortec BMA355 is designed to be highly configurable in order to provide developers greater flexibility when integrating the sensor the system. Besides the wafer level chip scale package with ultra-small footprint and lowest power consumption, the BMA355 has very wide ranges for VDD and VDDIO supply voltages. The sensor also includes a FIFO buffer with 32 samples depth for each acceleration axis. An integrated self-test feature facilitates overall system reliability.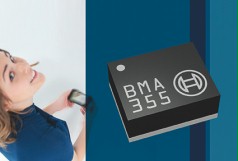 "The BMA355 has been designed to fit the aggressive requirements of wearable devices, and reflects our strategy to offer customers greater design flexibility through the delivery of smaller, energy-efficient, higher-performance and more tightly integrated sensor-software combinations," said Dr. Stefan Finkbeiner, CEO of Bosch Sensortec.